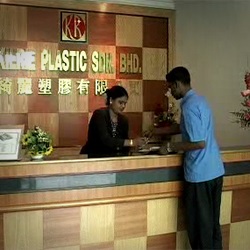 Kierie Plastic Sdn. Bhd. was incorporated in December 1988 with an authorized capital of RM 500,000.00 and a paid up capital of RM 200,000.00, which specialize in all kinds of plastic injection moulding. Currently, the authorized capital stands at RM 5 million and the paid up capital at RM 2 million and are mainly producing the plastic injection moulding components for plastics audio & video parts, medical apparatus and household products.
          The company has made significant contributions in the arena of plastic injection moulding services to lots of multinational companies.
          To date, Kierie has increased manpower more than 180 staffs and is equipped with full facilities, which able to serve most customer needs with 56 units of Plastic Injection Moulding Machine (40-1000T), all efficiently managed with stringent quality control measures.